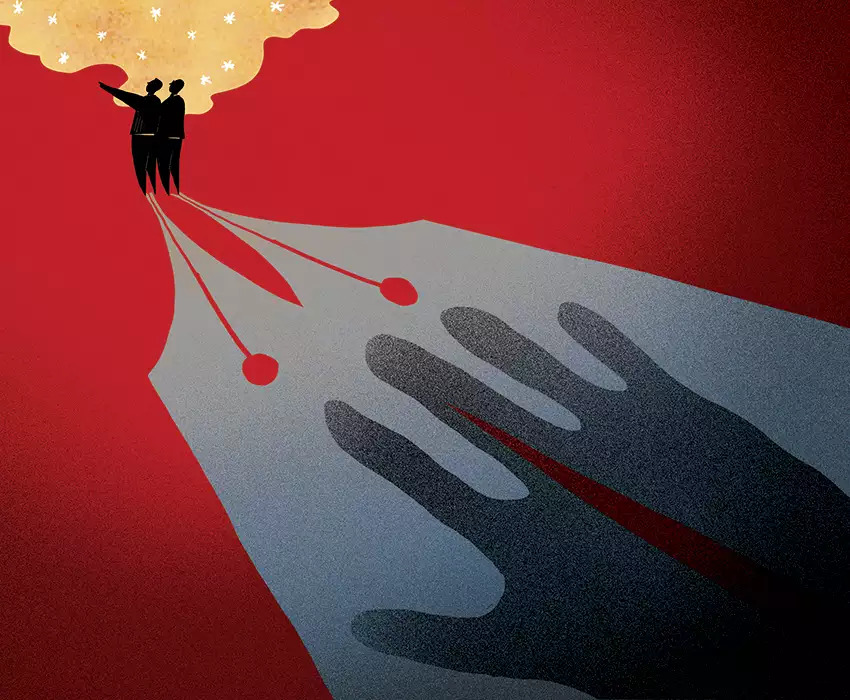 Pratap Bhanu Mehta, professor of political science and a passionate critic of the government, resigned from Ashoka University last week because he felt he'd become a 'political liability'. The media has portrayed it as a morality tale of good versus evil but, in fact, it's a tragedy.
It's a tale of two modern Indian heroes: one courageously showing truth to power; the other idealistically trying to build a better world; both performed their duties, doing what he had to do; but it all ending badly. The 'tragic flaw' was not the rottenness of the court of Denmark but the imperfect world outside – a prickly state, tribal political parties, uncivil wars in an Age of Hatred – forces beyond the heroes' control.
The first hero, Ashish Dhawan, had a dream – to create a world class, non-profit liberal arts university with half the students on free scholarships. He grew up in a professional family in Kolkata. After finishing his schooling at St Xavier's he got a scholarship to Yale, where he experienced the wonders of a liberal education. He went on to Harvard Business School and from there to the investment world.
At 30 he returned to India, set up ChrysCapital, a venture capital firm, with the mission to nurture Indian startups. A dozen years later the firm was hugely successful, and Dhawan quit at the peak. Energising a bunch of similar idealistic, successful entrepreneurs like himself, he began to pursue his dream. For the past ten years, he's been giving away his millions, passionately building Ashoka University.
The other hero of the story is Pratap Mehta, who grew up in roughly similar circumstances in a Jain family in Jodhpur. After schooling at St Edwards in Shimla and St Xavier's in Jaipur, he got his BA at Oxford and a PhD in politics from Princeton. He went on to teach at Harvard. He returned to India, headed the Centre for Policy Research, making it a premier Indian thinktank, famous for intellectual honesty and rigour. But he built his formidable personal reputation as the author of elegant, forthright observations in his closely read weekly column.
Ashoka, meanwhile, was quietly laying the foundations of excellence in liberal education. I was blown away by what I saw when I went to deliver a lecture – and decided to become 'a founder', donating my own savings to Ashoka. In 2017, Ashoka invited Mehta to join as vice-chancellor. I thought it was a perfect marriage.
Soon, however, there was trouble. His strong views about the government were beginning to worry the university; Dhawan, however refused to stop Mehta in any way. I remained a distant cheerleader, unaware of the storm brewing, until one evening I was asked for advice. I suggested he continue to write vigorously but delete 'Ashoka' from his byline.
In 2019, Mehta decided to step down as VC but continue as professor. One afternoon, as we discussed my favourite project – to create a world-class department of Indology and Sanskrit at Ashoka – he said he had trouble "balancing his administrative duties with his academic interests". He had "unlimited freedom" but little time to teach. Ashoka, he said, "was an extraordinary success story … Its commitment to academic values, the integrity of its processes, and the extraordinary talent it has assembled make it a truly special university."
I felt all was well. So, imagine my shock when I learnt last week that Mehta had resigned from Ashoka. The following day, Arvind Subramanian quit in sympathy because Ashoka was "no longer able to protect academic freedom." 90 faculty members expressed solidarity with Mehta. 150 academics from Harvard, Yale, Columbia, LSE, MIT, you name it, questioned Ashoka's commitment to freedom. Students announced a two-day boycott of classes. Ashoka's reputation had been indelibly stained.
No one seemed to know why Mehta resigned. I discovered there hadn't been any pressure from the government. Many of the 150 donors of Ashoka, however, were offended by Mehta's weekly bashing of PM Modi and the state. Not surprising, donors are conservative. The university worried that if funding dried up, the university might have to cut scholarships, raise student fees, freeze faculty salaries, chop new academic programmes. Still, no one asked Mehta to resign or to stop writing. But Mehta himself began slowly to realise that he was becoming a political liability. In an act of integrity, he resigned. Dhawan had mixed feelings. As a genuine liberal, committed to dissent, he felt sad. But as a protector of his baby he felt relieved.
The tragedy then is this: two good men, both doing their duty, were caught between conflicting loyalties, ended in wounding a promising fledgling institution. Ashoka has been damaged, diminished in the global academic world – it won't be easy to attract world-class faculty in the future. The tragedy is bigger – India desperately needs to create world-class institutions and this is a setback to the nation's ambitions.
The consolation is this hasn't happened for the first time. Even Harvard and Yale, when they were young, faced similar challenges. The redeeming power of tragedy is to cleanse our emotions and seek renewal. There's too much that's good at Ashoka, bursting with creativity. After much soul searching, Dhawan has publicly admitted to lapses and there's genuine commitment to change. A firewall is being erected between the founders and the institution; an Ombudsman is being appointed. Having gone through agni pariksha, I'm convinced that Ashoka will rise again.