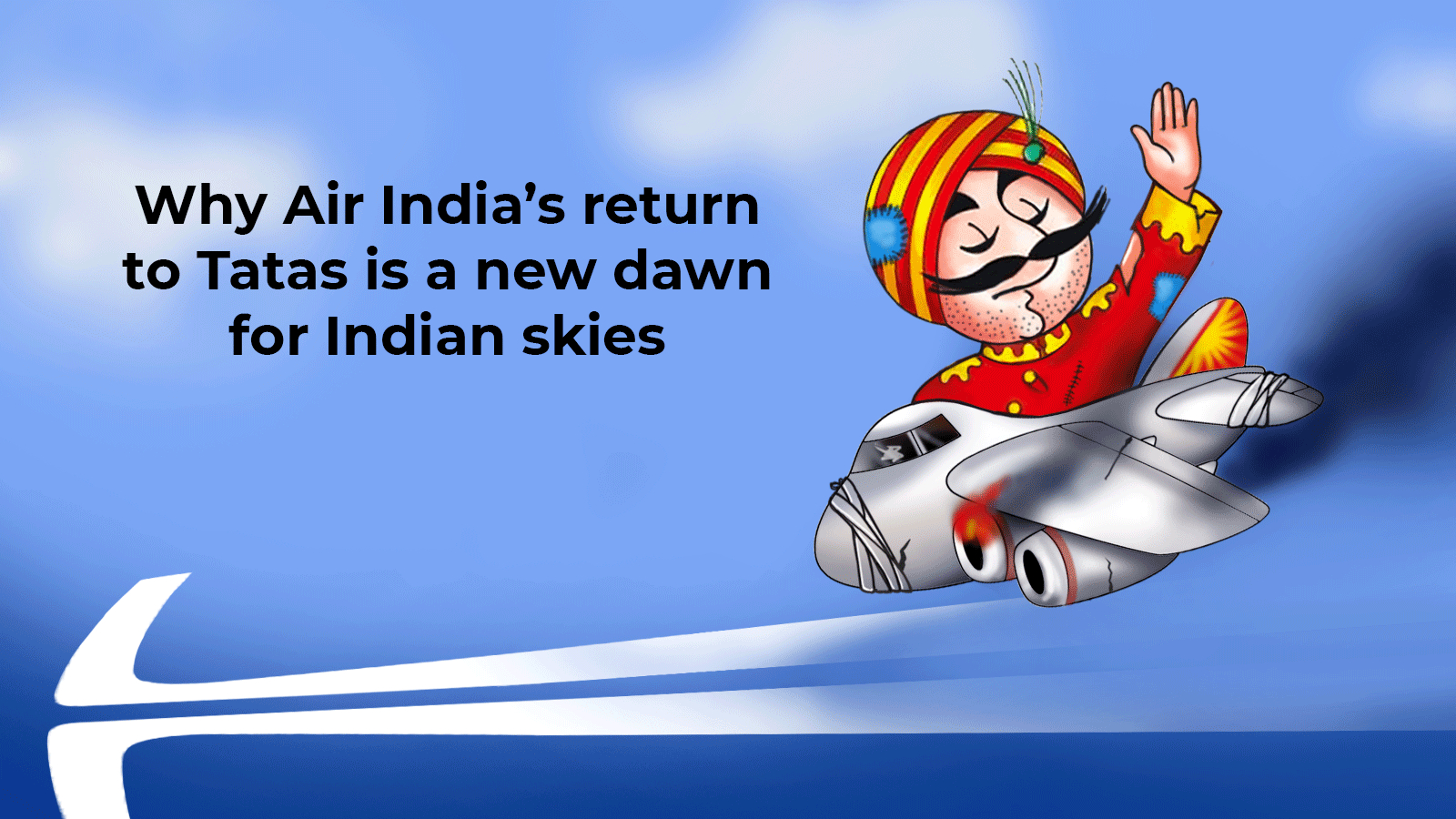 Tatas will have to infuse substantial equity and run two brands to optimise the Air India acquisition
Good news is so rare that one cherishes every sparkling droplet of it. On Friday afternoon, the 'ghar wapsi' of Air India was one such news – for the Tatas, for the Modi government, for the tax-paying Indian citizen, for air travellers, and for India's reform programme.
Air India was returned to its founders after being cruelly snatched in 1953 by a stupid act in the name of socialism. The airline ended in becoming a symbol of licence raj's lunacy.
Today it loses around Rs 20 crore daily and has accumulated losses of Rs 1 lakh crore.
But the Air India sale is not as bad as people think; nor as good. For Tatas, it could turn out to be a courageous act of a lifetime or a disaster. Air India is India's first privatisation after 19 years. It sends a powerful signal that India is ready to do business sensibly. Earlier, Air India failed repeatedly to be privatised because of unrealistic expectations. The lesson is to be open, flexible, and listen to potential customers. This sale is a feather in the government's cap, making it easier to divest the vast number of companies waiting in queue.
'Welcome home,' Ratan Tata tweeted, greeting the sick maharajah, founded in 1932 by JRD Tata. When Jawaharlal Nehru realised his mistake, nationalising a perfectly healthy business that brought prestige to the nation, he atoned by appointing JRD Tata as chairman. Thus, Air India was able to maintain high standards for decades.
I recall a heady feeling of pride when I rode on it in the early 60s, when going to study in America. For decades, it was the world's best airline. Today, Singapore Airlines holds that honour, thanks partly to Air India, which initially helped train its people.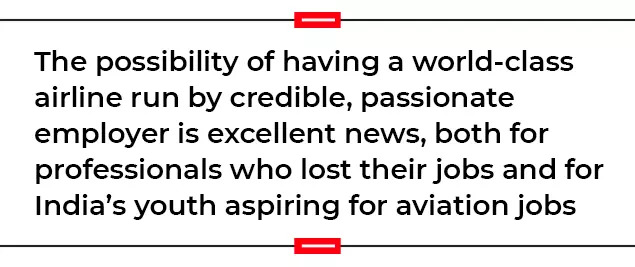 Air India brings many assets to Tatas: prized slots at airports around the world, like London's Heathrow, a fleet of 130+ planes and thousands of trained pilots and crew. India offers the world's fastest growing air travel market, situated between two high growth centres of the Gulf and Southeast Asia. It is still under-served. There isn't serious competition from the dilapidated Indian Railways that recently failed to attract a single entrepreneur to run private trains that might have attracted air travellers.
Air India also has significant negatives. Over the years, the loss-making, cash-strapped airline has got a negative image for delays and poor service. India's air travel market is also cutthroat with strong competition from low-cost airlines, especially formidable IndiGo with 57% market share. It will need real ability to optimise costs, streamline operations, and an appetite to take heavy losses during the early consolidation. Fortunately, Tatas have the staying power and the will to play for the long-term.
The key decision has to be about the brand. Now Tatas have four aviation brands: two low-cost carriers (Air India Express and AirAsia) and two full-service airlines (Air India and Vistara). It will be tempting to consolidate all four under a single brand. That would be a mistake.
India has two markets, each needing its own strategy and culture to win. The best solution is to go with two brands, two CEOs, each focussed single-mindedly to win its own war. Vistara and AirAsia are joint ventures. It's important to carry partners along. This will not be easy. As to the brand name, I'd suggest the globally recognisable, Air India, despite its negative baggage. I'd retain Air India Express for the low-cost carrier.
Since most of Air India's debt has been taken over by the government, it will be easier to turn it around. More than 90% of its losses were due to interest and depreciation. In recent years, it did make operating profit. Tatas will have to infuse equity (around a billion dollars or so) for the turnaround.
The Achilles heel is the people. In recent years, employee numbers have come down, 27,000 (in 2012) to 13,500, improving staff to aircraft ratio from 221 to 95. Fortunately, the staff is mostly over 55; they will accept retirement after a year. The key is to create two high-performing organisations quickly.
There are many lessons in this story. The obvious one is that government should not run a business. Although Air India's decline was delayed by JRD's presence, the rot inevitably set in. The company succumbed to a bureaucratic culture. Years of service mattered more than competence for promotion. Mediocrity set in, no one willing to take a risk.
When I was director of Air India, three airplanes were redundant. The board told management to sell or lease them. Three years later they were still around. Why? Because there had only been a single bidder. The fear of the CAG, CVC and CBI prevented their lease. No one was contrite for having lost the country Rs 400 crore in revenue.
Air India's return to Tatas is a new dawn for India's skies. The possibility of having a world-class airline run by a credible, passionate employer is excellent news, both for professionals who lost their jobs when Jet and Kingfisher died and for India's youth aspiring for aviation jobs.
Our celebration, however, is shadowed by the realisation that had Vajpayee's government succeeded in selling it 20 years ago, the Rs 1 lakh crore spent in keeping it afloat could have been spent in making so many children's lives through good schooling.